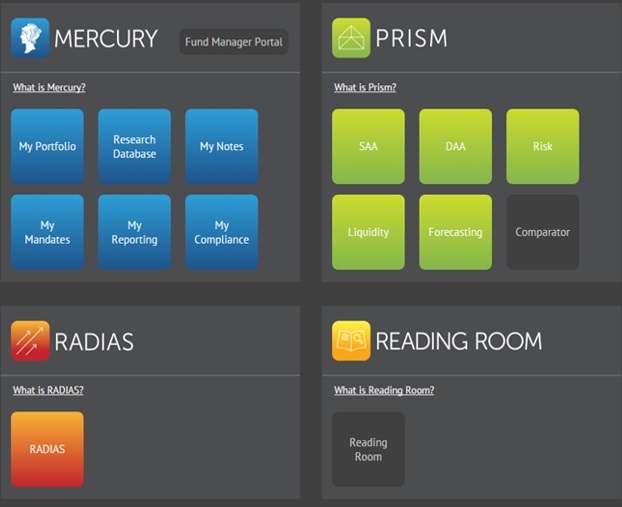 Frontier Advisors has been recognised as the leading innovator amongst investment consultants from around the world in the CIO Industry Innovation Awards in New York.
Frontier won the acclaim for its Partners Platform technology ultimately beating a field of eight finalists from the US, UK and the Netherlands. The highly regarded awards, now in their sixth year, recognise innovation within the global asset owner and asset management communities. Winners are determined based on surveys and data where applicable and with input from an Advisory Board.
The Frontier Partners Platform features a range of web-based tools covering portfolio analytics, manager and product research and a real assets transactions database. The judges of the award were impressed with the technology itself but particularly enamoured with the integration of the software into the way Frontier works with its clients in a collaborative consulting manner.
Accepting the award in New York was Frontier Director of Consulting, Fiona Trafford-Walker, who acknowledged the efforts of Frontier staff and clients for the success.
"It's tremendously exciting for our team which has worked very hard for two to three years on this technology but also for our clients who have helped shape the tools and been so enthusiastic in taking up the Platform and embracing our new approach to consulting", Trafford-Walker said.
"In the last five or so years, people have forecast the demise of asset consultants, but talking to other consultants and investors from around the world the need for, and role of, consultants is as strong as ever. That role just needs to evolve with the market and the Partners Platform is now a leading global example of how investors want to work with consultants.
"Consulting has always been about the calibre of people and the integrity and rigour of your processes. But now it's also about providing access to your thinking, collaborating on ideas with your clients, and providing sophisticated but simple to use technology", an excited Trafford-Walker explained.
In a big year for the Australian firm, the Partners Platform has now been adopted by funds from outside of Frontier's retainer client pool while strong interest has also been shown from several international investing bodies. Earlier in 2015 Fiona Trafford-Walker herself was again ranked amongst the top investment consultants in the world, holding on to her number four spot for the second year running, the highest ranked woman in global consulting ranks and the only Australian to make this year's list.
For a preview of some of the functionality of the Frontier Partners Platform, view this video .